Rental media is available quickly after payment is complete. This allows you to make choices in your staging and other scenery in response to what the media can do. Please provide the dates of the production and the name of the presenting institution. The standard agreement assumes the show will be presented with audience for no more than three weeks. You may rehearse with media for longer if you like. For most media, you are welcome to edit or rearrange things to suit your needs. There are often elements that can be added or rearranged by your choice. Instructions and cuing guides are included.
This media for School of Rock, the Musical includes the following settings:
The Olympic Powerhouse (performance space) with lighting effects built into the media
Various nuetral alleys or street scenes
Dewey's bedroom
The rehearsal space for the band No Vacancy
The exterior of the records store
A split stage between Dewey's bedroom and the office at Horace Green School
Various hallway settings within Horace Green School
The Assembly Hall at Horace Green
Dewey's classroom
The living room in Dewey's apartment
The music room at Horace Green
A wide suburban view of many children's homes
The faculty lounge
Auditions at the Palace Theatre with moving lights built into the media
The Roadhouse bar
The Palace Theatre: The Battle of the Bands.

Moving lights and setting for No Vacancy performing I'm Too Hot for You
Shifting in and out of the wings of the theatre for the backstage scenes
Extensive sequences for School of Rock to perform Teacher's Pet and Stick it to the Man with moving beams of light, strobes, and special effects built into the sequences.
The elements in the media imitate the motion of drops, sliding panels, wagons, and moving lights. It is set up to be used immediately using PowerPoint.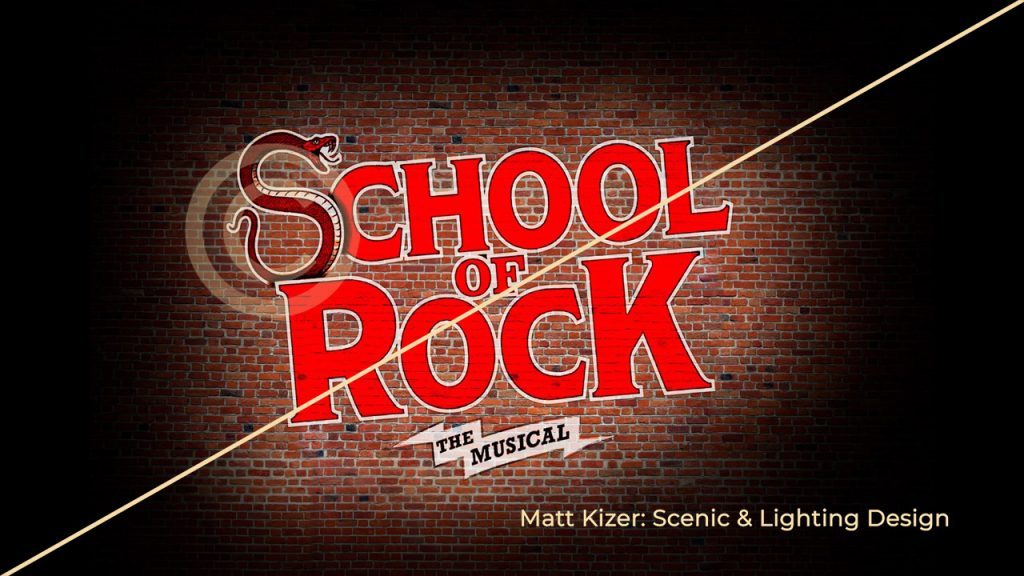 This media uses PowerPoint, so it runs well on Mac or PC using software that most people already have. Some of the slides have elements that can be moved, deleted, or replaced from the library.
This media is delivered as a PowerPoint file ready to go.

Subfolders of media for people who want to arrange it in QLab or other players can be arranged.
Video cues are labelled in the media.

Media will run on both Windows or Mac operating systems.
Instructions on how to best integrate with scenery and some options within the media are included.
Current Rental Price: $600.00 Request Invoice for Media