Rental media is available quickly after payment is complete. This allows you to make choices in your staging and other scenery in response to what the media can do. Please provide the dates of the production and the name of the presenting institution. The standard agreement assumes the show will be presented with audience for no more than three weeks. You may rehearse with media for longer if you like. For most media, you are welcome to edit or rearrange things to suit your needs. There are often elements that can be added or rearranged by your choice. Instructions and cuing guides are included.
Simplify the flown, rigged, and tracking scenery you might wish to build.
This media includes three options for show-portal overlays: Books, blocks, or none. The video above alternates throughout, showing you each of these options.
The content looks and behaves like scenery that is built and controlled from offstage. It casts shadows, moves through shadows, and speeds up and slows down as it moves into and out of position. Add as much of your own scenery as you wish – or as little.
Matilda's story of the Acrobat and the Escapologist is expressed through semi-animated circus posters. Every setting is accounted for in order. The telekinetic chalk-writing and and other effects are ready to use.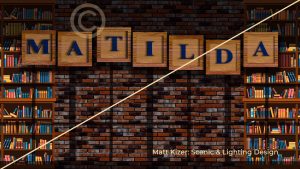 JUNIOR VERSION:
Current Rental Price: $600.00 Request Invoice for Media