An Outstanding Program Emphasizing Skills & Career in the North East
Three alumni of the class of 2023 were interviewed three months after graduation. They give in-depth discussion about the Theatre Program at Plymouth State University, including the faculty, the programs, and the facilities. They are dear friends of mine, and I am happy to share this content here. Plymouth State is in a beautiful small in the White Mountains of New England. The theatre program there includes emphases in Acting, Musical Theatre Performance, Design and Technology, Dramatic Writing, and Standardized Patient Training.
00:00 Introduction
Grace: My name is Grace Gilbert.
Cambria: My name is Cambria Wozmak.
Lindsey: My name is Lindsey Brunelle.
Grace: I just recently wrapped up a production at the new Niantic Bay Playhouse where I played Wednesday Addams, in Niantic Connecticut. I'm currently in one of our rehearsal theaters. This is primarily where we do music and stuff, but we have a main stage downstairs, and it's super up and coming, and super cool. My next professional contract is to perform on a Christmas show for the Essex Steam train in Connecticut I start rehearsals for that in October and I am contracted through the rest of the year.
Cambria: Since graduation I worked as technical director for the Ivoryton Playhouse in Ivoryton, Connecticut where there's summer productions: Sound of Music and Jersey Boys. My full-time position is now director of technical theater maker space assistant at the West over school in Middlebury Connecticut where I'll be acting as technical director, set designer, and lighting designer, and as a theater teacher to my students.
Lindsey: I am a performing artist, choreographer, and instructor. In the past two months I think I've worked for five or six different companies. Today is actually our first day of rehearsals for Much Ado about Nothing. In a few weeks I'll be starting as a dance instructor at the Sea Coast Repertory Theater and a ballroom dance instructor in Hampton Falls at the Crystal Ballroom Dance Studio.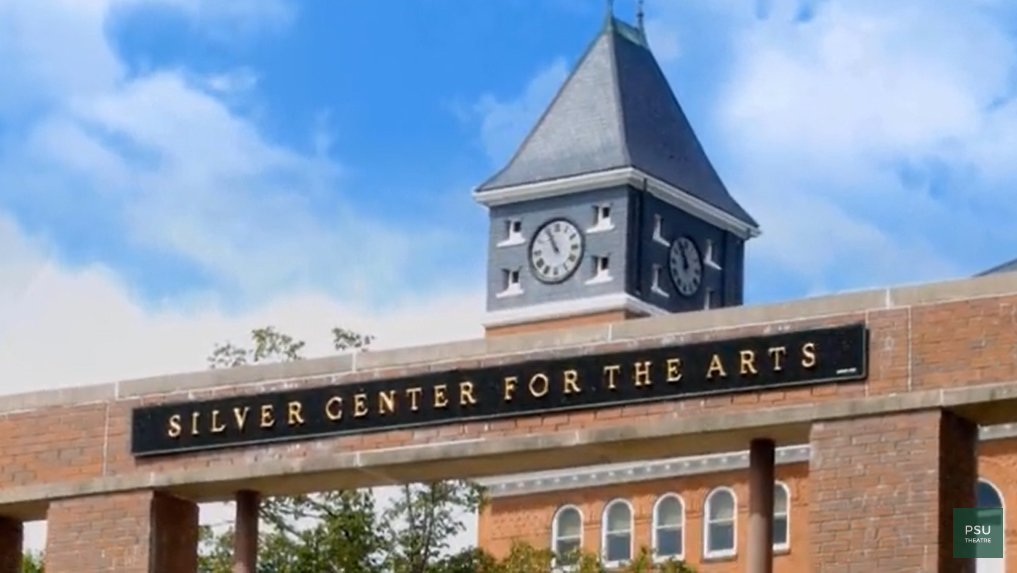 02:27 What makes the theatre program at Plymouth State effective?
What makes Plymouth State University's Theatre Program effective?
It's such a tight-knit Community; your classes aren't 30-40 people where you're just getting lost in a sea of other people. You get more specific training. You create a real bond with both your classmates and your professors.
Grace: Really intimate. Your education is very personalized … a sense of trust academically, and human to human with your professors. I mean, you put us in a group chat, and we were like "Oh my , what's up?! And .. yeah!

Lindsey: To bounce off of that, I just remember – this was towards the end of senior year – one of the voice faculty stopped me and we were just kind of talking, and he was talking about what I want to do postgrad. "Oh my gosh, you could be a vocal instructor or do things like that," and I was like, "I don't know about that." Then Brandon Buckley, who is my voice teacher, popped his head out. "Oh you absolutely could!" And then more teachers just kept appearing in the hallway. "No, Lindsey, you can do it!" I was just sitting, like, oh my gosh, being overwhelmed by the encouragement of every faculty member, just coming out all at once to shoot my anxiety down. You could walk into any office of any faculty member at any time and they would do whatever they can to help you. It's real, and it's really nice.
03:49 Silver Center for the Arts : The Hanaway Theatre
Discussing Hanaway Theatre for Performance & Musical Theatre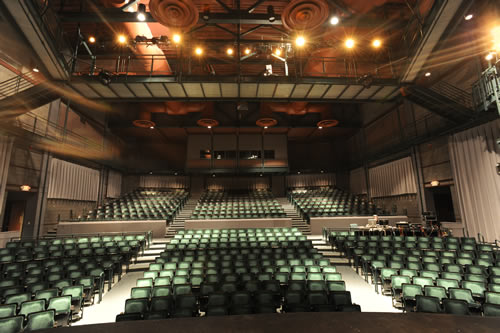 Grace: So a little side note: Plymouth was the last school that I auditioned for. Biggest, biggest selling point was walking into the theaters. I walked into Silver and I was like: Oh. This – this is real. I think all of us showed up we were so used to a little high school stage; didn't really have much wing space, and you were lucky if you had a pit, or like costumes you didn't have to buy yourself, or something like that. But the minute that you walk onto that stage; you see the grid, you see the fire curtain; you see the booth is way up in the stratosphere; you see the catwalk; everything is just … so this is what a theater looks like. It was like waking up on Christmas morning. And don't even get me started [about] the first time performing on it. The first time I had performed on that stage was Little Women. It was all just overwhelmingly beautiful; and professional; and exciting. And it's such a big reason why I have such a fond memory of not just that show, but every show that I've done on that stage.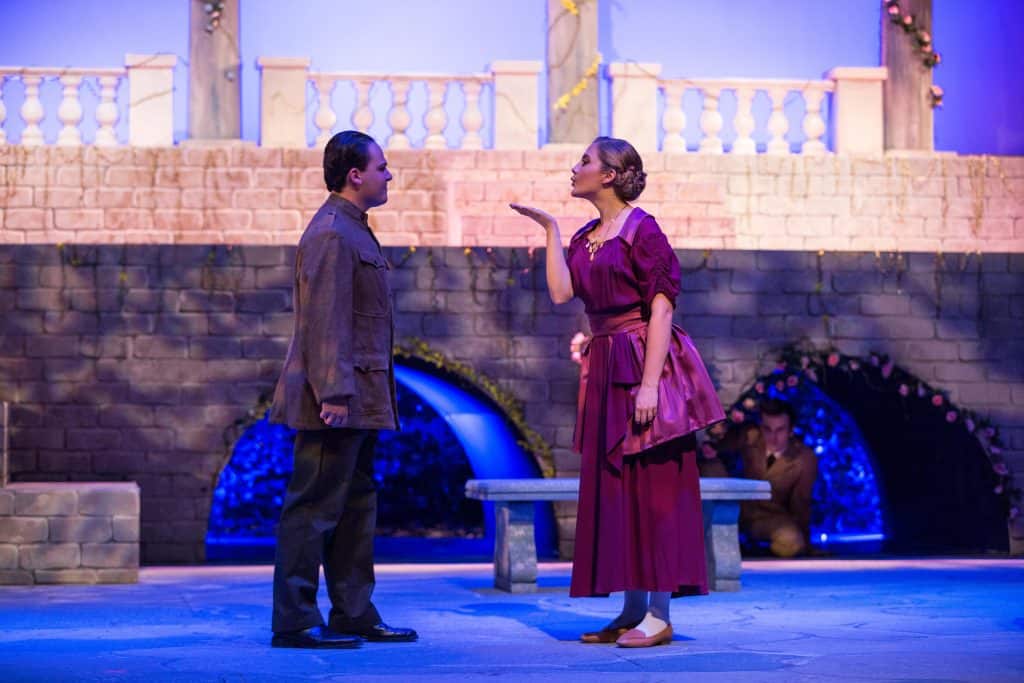 Lindsey: Much Ado about Nothing was the first show that I saw at PSU. Little did I know that Hanaway would become a space that I became very intimate with. While being a music theater major I also worked as a stage manager and a technician. Hanaway was kind of my home base. I've spent many, many hours in Hanaway.
Cambria: I had this weird sense of just awe walking into the space for the first time realizing that that was going to be my workspace … my studies for the next years. It gave me such a sense of pride knowing that I was studying to work in spaces like Hanaway. We were so fortunate. I realized going into the professional field how a lot of community and professional theaters don't have half of the facilities and or equipment that we do.
Lindsey: I feel like I should note: my first debut on the Hanaway stage which was as the monster under the bed in Addam's Family as a first semester freshman – thank you very much. I was on running crew. One day I was checking my email and I get an email from Matt Kizer who at this point I had never talked to except for maybe once when I auditioned [for the program], and it just said: "Hi Lindsey! We need someone to dress up like a monster or a dinosaur and fit in a small space. How would you feel about doing that?" and I was like, "I'm down! Let's do it!" I got to hide under Pugsley's bed and jump out, and I was in fact in the curtain call standing among all these upper classmen who I was terrified of, taking a bow in my dinosaur mask. That's a really funny way to be introduced to the Hanaway stage.
06:43 Silver Center for the Arts : The Elizabeth Cheney Studio Theatre
The Elizabeth Cheney Studio Theatre for Acting, Design, & Technology
Grace: It is probably my favorite in all of Silver. I love Hanaway. Hanaway is near and dear to my heart, but when I was a freshman and I was the lighting board operator for Beauty Queen of Leenane. That was my first ever production there and I was on crew for it at Spring I was cast in Spelling Bee, which was also in [the Cheney] Studio. I spent the entirety of my freshman year in there; ironic because I have never once performed in any type of round. [Within] my freshman year alone I got so intrigued by it. You have to have this whole sense of spatial and … kinesthetic awareness, because it's … you may be cheating out to house left, but that means house right is missing all the actions. [Consider] You're a Good Man, Charlie Brown [in] my junior year, and that still … Kizer shut up! … is one of my favorite shows that I did at Plymouth. For reference: I was Sally Brown, and apparently I am in a perpetual state of Sally Brown, and … shut up! Because it requires a smaller cast to be in studio. As well, you really spend a lot of time with those people and you really create some of these the most chaotic memories and bonds, and it's some of the most prominent memories I have from Plymouth.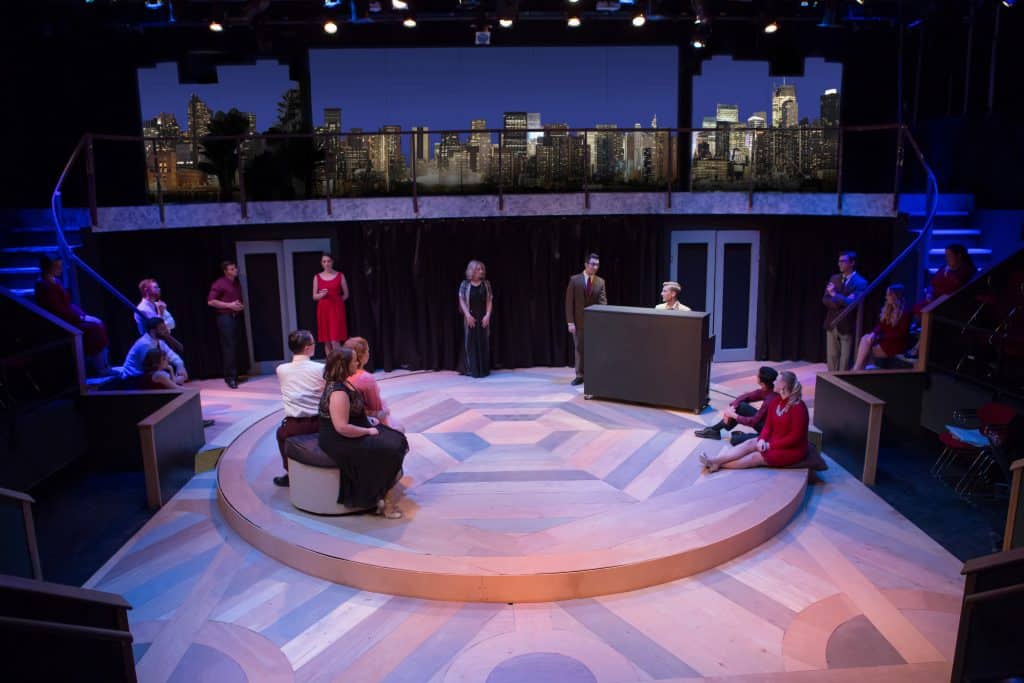 Lindsey: One of the first things that got me was that I didn't really understand all of the crazy hideouts nooks and crannies in that theater. There's this whole under-the-audience system of tunnels and doors and different entrances. Whoa! This is how you get around? It's a crazy workaround. There's all these hidden doors and passages. The first time I performed there it was for Dance Project. Because it was such an intimate piece and it was such a strong piece, I literally got to walk right up to people and make eye contact with them and really connect with them. One of the first performances I did post-grad was in the round, so having that experience of working with a three-quarter audience was really, really beneficial.
Cambria: Working on sets you can mask quite a bit of a set piece that you're working on. People won't be seeing certain angles in spaces like Hanaway. It really just makes you [level] up any carpentry and painting skills that you have. It's a much more intimate experience and you have so many more viewpoints. It needs to be so much more detailed. That really helped onward when it came to attention to detail and audience perspective.
9:19 Acting and Singing Styles
Acting and Vocal Styles: Performance Training for College & University
Grace: Stanislavski; Meisner.
Lindsey: Checkhov.
Grace: Suzuki.
Lindsey: Alexander Technique and also Feldenkrais,which are more movement based but have a big part in acting.
Grace: Every singer has their strength and they're going to enhance on that. Classical, contemporary. Golden Age. Seventies. Rock. You learn a lot of chamber music.
Lindsey: We have a class: Musical Theater Singing Techniques. You have to sing from every single era of every genre in that class over the four years. There's not a style that I haven't sung. You have to be able to sing everything.
9:53 The Standardized Patient Training Minor
The Standardized Patient Training Minor: Specialized Acting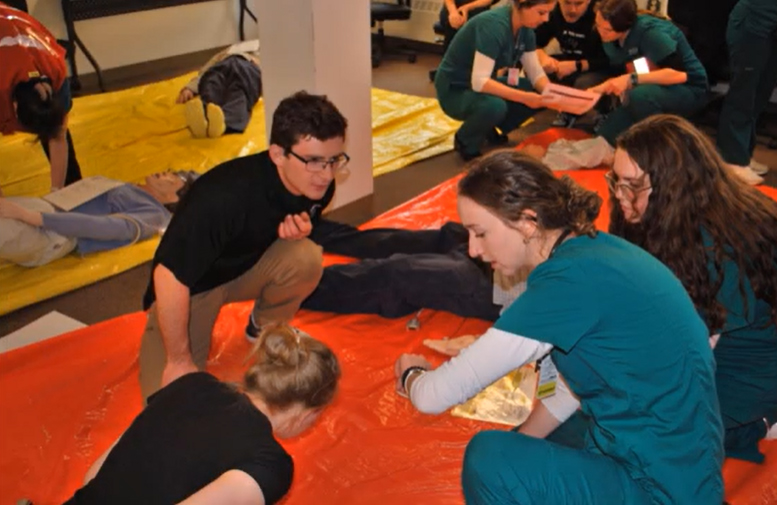 Lindsey: Standardized patient training is something that I didn't expect to enjoy as much as I do because I personally have severe anxiety of going to doctors, and things like that; So I was like: "I don't know if I'm going to be able to do this; I'll try it." And I love it! It is so much fun to do.
Grace: Being a simulated patient for psychologists, medical departments, physical therapy, nursing, and simulating an illness, a physical injury; a mental illness. You get all of the details that you might possibly need. Basically being a practice patient for the students in those departments.
Lindsey: Normally you do a certification program or something like that, but PSU actually offers a minor in it. You get to work with PSU's physical therapy department; with the nursing department; with the counseling department. We get to do things like disaster drills where big chaotic – a bomb just went off in the ER, what do you do?
Grace: It taught me a new skill set, but more than that it taught me to be confident in my abilities that I already had.
11:05 Hannah Murrary, Coordinator of Vocal Studies
Faculty & Mentors
Hannah Murray, Coordinator of Vocal Studies & Primary Faculty for Musical Theatre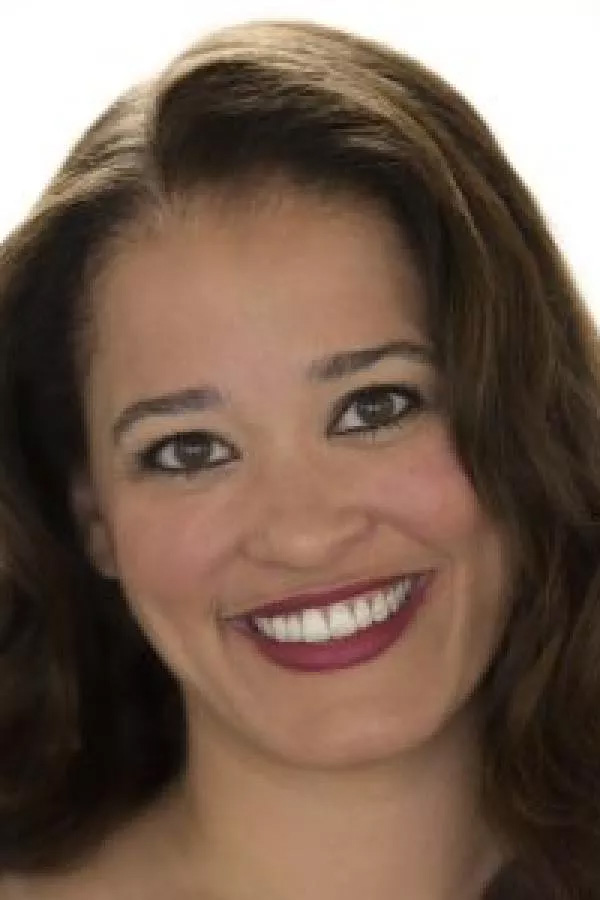 Grace: I love Hannah. She was my voice teacher freshman through senior year. [She is] typically the music director for the musicals all year long; without a doubt – you know, other than my own mother; she is [first among] the most maternal, and welcoming, and warm, and supportive people I have ever had the privilege of knowing. She is so intelligent and talented. After my first couple months of working with her I was a different vocalist than when I arrived. Not only am I a different vocalist from my freshman year, I am a different person than I was my freshman year, and she is 100% the reason. Time management; and practicing; and safe singing techniques; vocal care.
I found that I have a real knack for vocal pedagogy because of her. She pushed me in that direction, and it's something that I found I have a real passion for. She has a funny way of doing that with every single student that she interacts with. She has this amazing way of bringing out the absolute best of every single student's potential. I gush when I talk about her because she is one of my favorite people on this Earth, just unmatched.
12:27 Heather Manfredi Technical Director
Heather Manfredi, Technical Director for the Silver Center for the Arts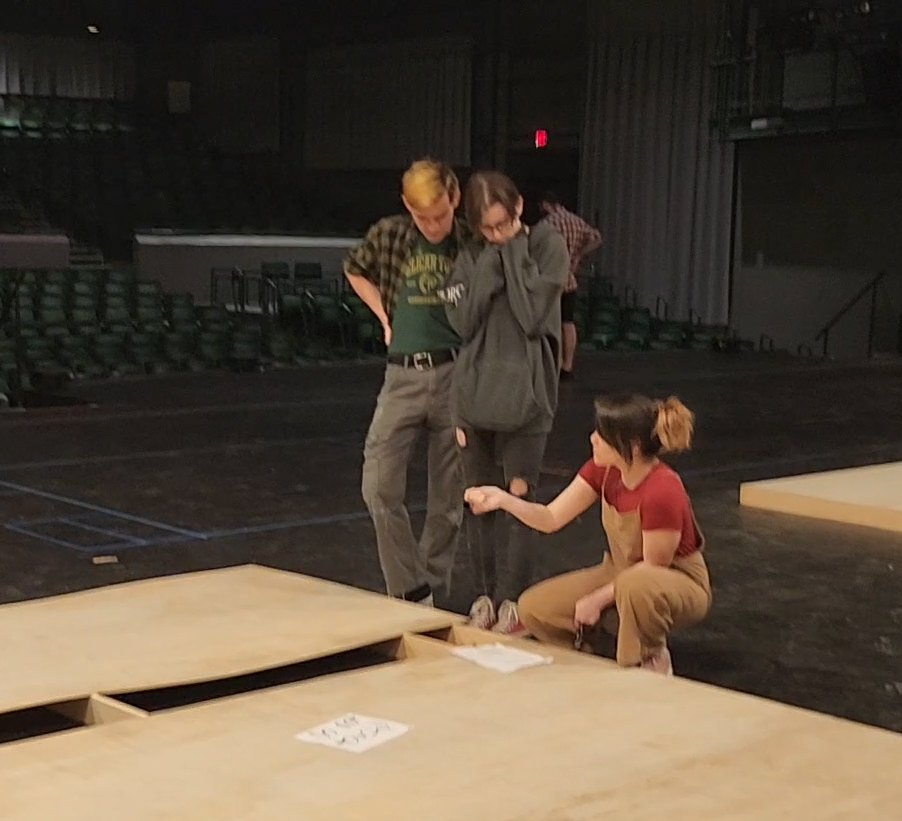 Lindsey: She just kind of emerges and is this very warm comforting – like, "Oh, let me help you!" and then she's gone again. And then she reemerges and is like, "Oh, let me give you all these things to help you succeed!" And then kind of goes off on her way again. She's just always there, and is always willing to help if you need it. A very kind and very talented person.
Grace: Everybody that works with her seems to love her.
Cambria: Heather is such a mysterious but amazing person. She will say "Let me know if you need anything," and then would disappear again into the Shadows … and then if you needed something she reemerged, quiet. She was so precise. I was always questioning "Oh, I don't know if Heather likes me or not," and then it came to my interview process for my current job. I was curious. Oh what should I expect. I messaged Heather. "… oh she's really busy …" and instead I got this detailed, long email telling me everything I could possibly need to know interviewing [for a] technical theater position as a woman, and was so kind; "Please reach out to me if you need anything else!" The silver Center is incredibly lucky to have her.
13:32 Jessie Chapman, Core Theatre Subjects & Director
Jessie Chapman, Core Theatre Subjects, Acting, Director, and Mentor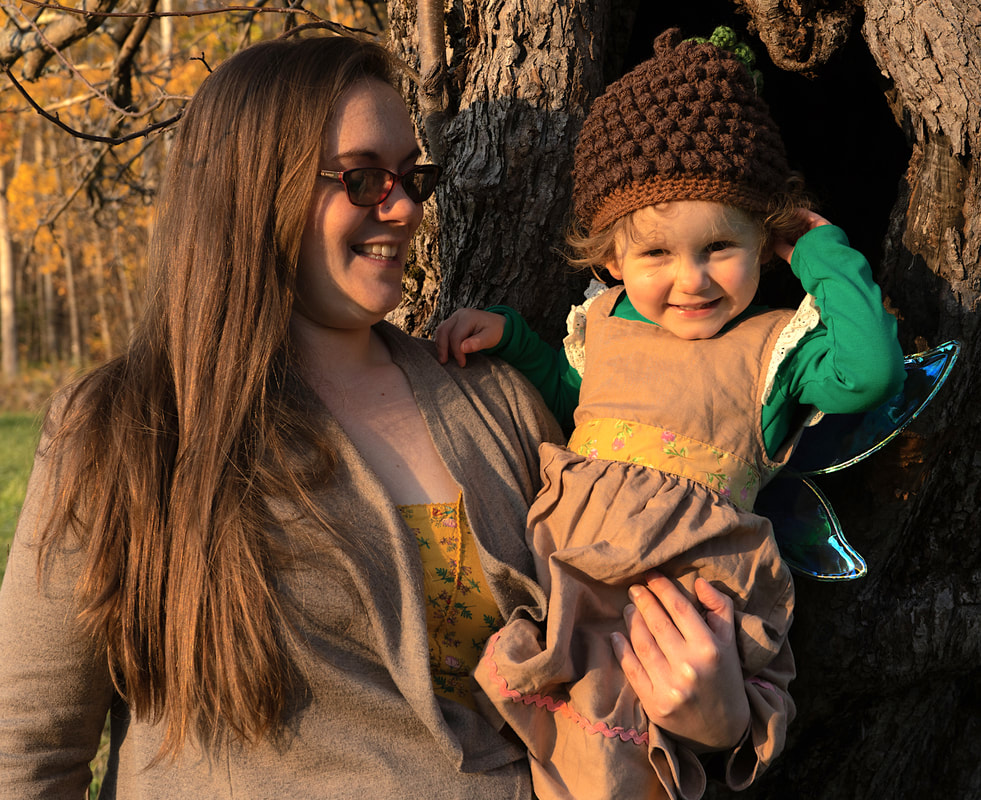 Grace: Jessie!
Lindsey: I got to work with her a lot. I also worked with her as a choreographer. She taught a bunch of my classes, and even now I am working for one of her companies, Advice to the Players, that she's the executive producer of. I've spent a lot of time with Jessie and she is truly a wonderful human. She was a really big advocate in taking care of yourself, and how to do so while being in a theater industry. She is definitely a person that you could go to if you needed anything and she would be there for you, hands down, 100%.
Grace: She's a fantastic director. Some of the most unique and beautiful visions for shows. So passionate for any scene and any show She lays it out for the actors to just feel; she makes our job so easy.
14:25 Timothy L'Ecuyer, Core Theatre Subjects & Director
Timothy L'Ecuyer, Core Skills Including Acting, Directing, & Stage Management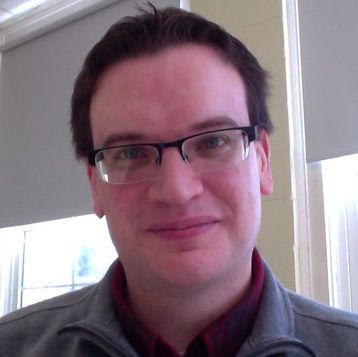 Grace: I was not scared of many people. Until I was a junior, Tim was a legend [to me]. The only show that I got to do with him was Urinetown. I was Penelope Pennywise. [I loved] the way that the two of us would just kind of collaborate on the character and turn her into something that neither one of us expected that she would be, and have really good conversation about it. He has this really great balance of professionalism but also … "Hey, you're doing really great work, I just wanted to let you know!" and I would cry about that for probably two hours. He's incredible; another very visionary person.
Lindsey: Tim is probably one of my favorite directors I've ever worked with. The first time I worked with him was on Curious Incident. He was always a big advocate of "Follow your instincts, and I'll pull you back if we need to." You as the actor are in charge of your character. He's also just … so fun to work with. He's very sarcastic and Goofy, and just a wonderful human to be around.
Grace: He became a lot more of a mentor to me than I ever would have thought.
Cambria: One of the best teachers. So helpful. He would give it to you how it was and how you needed to hear it. I'd sit back and go, wow, yes, he is really right. I can do better. Just him being able to bring that better out of students speaks volumes on him.
15:44 Fran Page, Core Subjects , Standardized Patient Training, & Director
Fran Page, Core Skills Including Acting, Directing, & Musical Theatre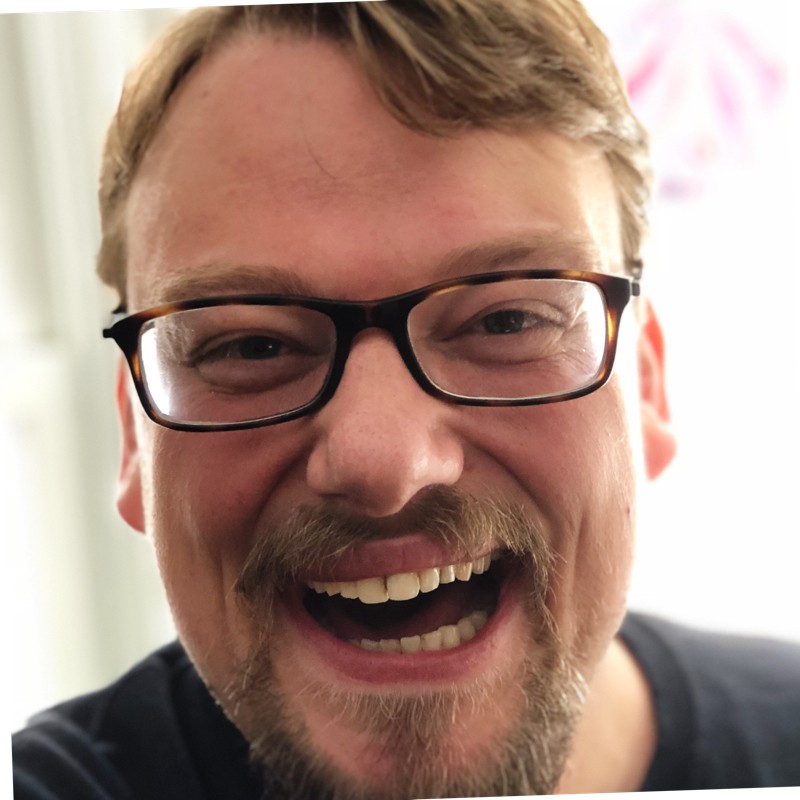 Grace: Fran's a wonderful person. He brings out everybody's inner child, but also touches some untapped potential. Incredibly collaborative. He wants to hear what the actors have to say about the process, about their character. He's just so fun. He's so knowledgeable. He has a lot of great insight, and he has a huge heart. One of the most comforting, best people ever.
Lindsey: I have him as a teacher and also worked with him a lot for standardized patient training. He's the main coordinator for that. I have had the opportunity to do standardized patient work with him. He's just so amazing. In my senior year he offered to meet with me help me go over a resume, and he's like "I'll buy you lunch and I'll work on your resume with you, and it'll be great!" And did we get to my resume in the hour and a half that we sat talking? No, we did not. So down to earth, and loving.
Cambria: Fran is one of those types of people [that] in any kind of situation, with any kind of people, [is] able to conduct themselves so eloquently and so calmly.
Grace: Fran's a wonderful person.
16:46 Justin McCarthy, Coordinator of Collaborative Piano & Conductor
Justin McCarthy, Coordinator of Collaborative Piano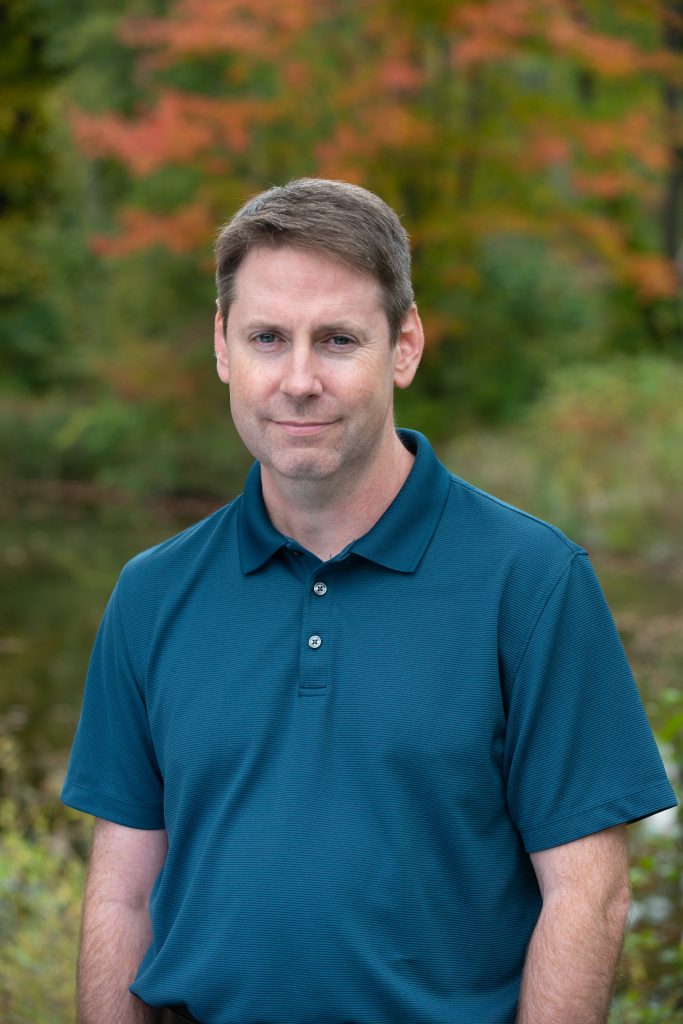 Interviewer: All right now you get to talk about Justin. [strong reactions]
Lindsey: There it is.
Grace: He's wonderful. He is insightful and he's so helpful. He is so there for the students. Your time with him – even though it's only 15 or 30 minutes – you get so much done. You feel so productive, and so heard. It was always like a breath of fresh air going into my rehearsals with him. He's just a wonderful human inside and out, and immensely talented, and we are so lucky to have him.
Lindsey: Justin is one of those people – he's not going to sugarcoat it if something goes wrong. If you're not doing something right, you're going to know real quick. It's so helpful to have that. "No, you're doing this thing wrong, so let's fix it together. This needs to happen, and here's how I'm going to help you do it. Really really helpful, and supportive. Just an awesome pianist to work with – for sure.
Cambria: When Justin would look at you and say you did a good job: "Relax kid, you're fine," you knew you were fine. I started off as both musical theater performance and theatrical tech and design and then I switched over to just theatrical tech and design. He always encouraged me and he always was like "You're doing such a great job, I'm so proud of you, you're rocking it."
18:03 Becky Gregoire, Dance
Rebecca Gregoire, Dance: Ballet, Jazz, HipHip, & More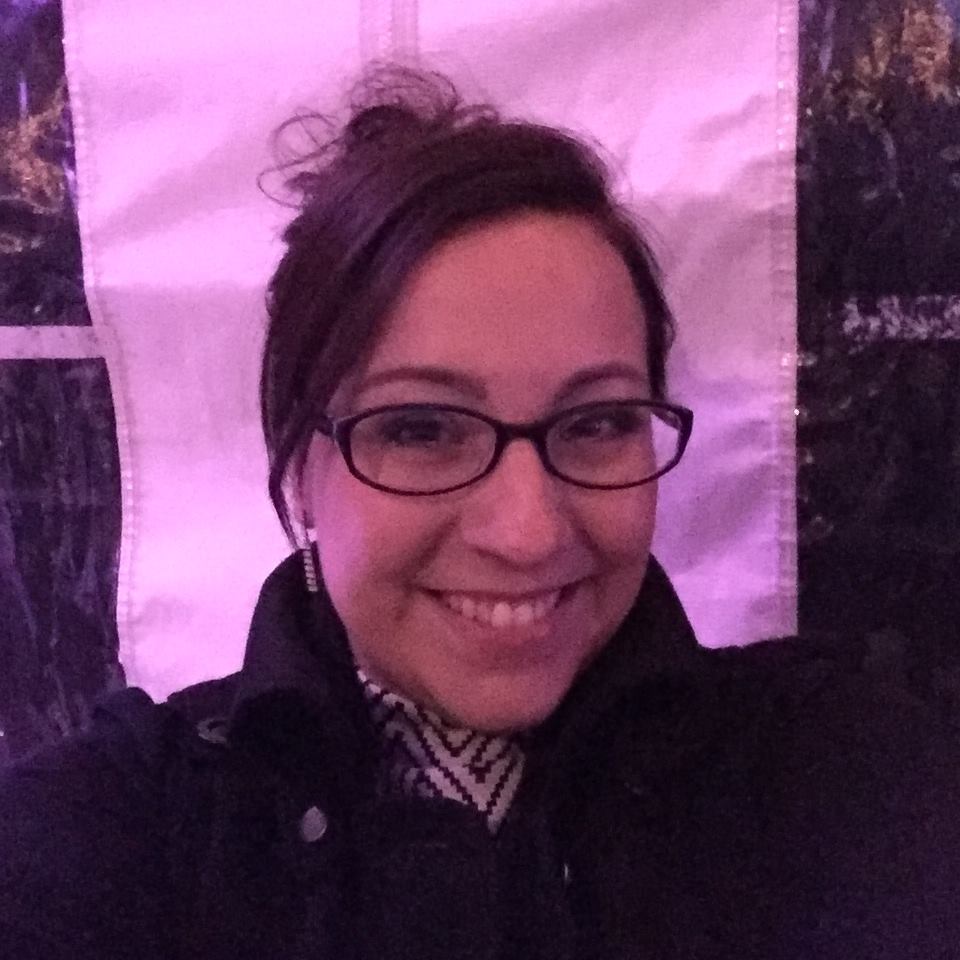 Lindsey: So I have a big dance background. When I first came in as a freshman, I remember emailing her like, "Hello, Professor Gregoire," and walking in like, "Oh my gosh," and looking around. Everyone was like, "Becky! What's up!" Oh. Okay. Maybe – maybe this will be all right!! Even though I had like 15 years of tap under my belt, I still learned so much from her. Such a fun and loving person. If the class came in and everyone was super-stressed out, she'd be like: "You know what, let's just stretch. Let's have a chill day." A very fun human to be around and I've learned a lot from her.
Grace: Becky is the cool Crazy Aunt of MTD. The first day I met her I'm just like "I don't know what it is, but I want to give her a hug so bad." She does a really good job of getting to know each person individually as a person, and as a dancer.
Cambria: I walked into class my first day the I see Grace, Lindsey, and Maddie Anna. They're all just – professional, and so put together, and absolutely killing the combo that we're doing. I'm like oh my gosh! Becky came up to me … "Hey girl you doing okay?" and I was like, "No I'm not okay! I feel like I don't belong here!" She just reassured me so much that that I was capable of doing what anyone else could do and she was just so comforting and warm. She really is like that crazy aunt that you just always want to be around. If you have a fight with your mom, you go to Beck! She was just she was fantastic, and I absolutely adore her.
19:38 Danee Gosselin, Costumes & Designer
Danee Gosselin, Costume Design and More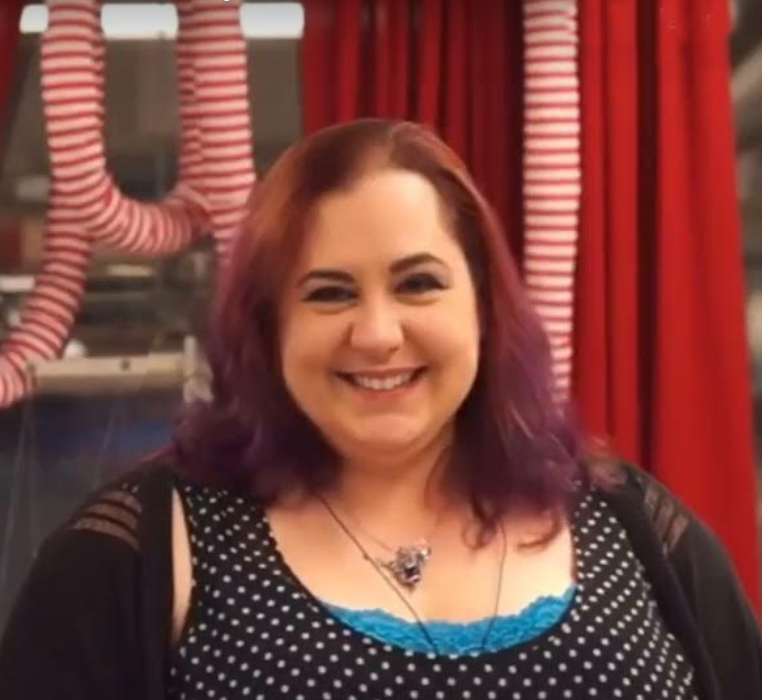 Cambria: I love Danee so incredibly much. The costume shop is like a little like hole in the wall. She's just the most warm and welcoming person. She's like that Italian mom that will not let anyone touch her ducklings. So many times I would be having a bad day and I would go and just sit in her office and she'd be like, "So what's up? Do you want candy? Do we need to commit arson? What's going on here?" She'd be like, "Yeah, life sucks, but you know what? You're going to get through it." I love that woman so much.
Lindsey: Incredibly talented. All of my costuming experience in theater was usually things that didn't actually fit me. "Here's some safety pins. Good luck!" Then I walked into Danee's shop, where not only did they take full measurements of everything and talk to you and do multiple fittings, but I also had the amazing pleasure of wearing not one but two made-from-scratch-costumes. Both she built from the ground up. To have a costume made for you by someone like Danee – I could not have asked for a better person.
Grace: The two of us very much bonded over my character in SilverStar Voyages, Gleeb. There is a shrine to my space helmet there. I was … this hideous, alien, stoned, mechanic. It was so fun. The contrast from Gleeb to my witch costume … she was just like, "I feel that after Gleeb you deserve this." She's another mother figure. She's so kind and welcoming to everyone. You can always count on smiling and laughing when you go into her realm
21:19 Tyler McCarthy Assistant Technical Director
Tyler McCarthy, Technical Direction, Master Electrician, Audio Technology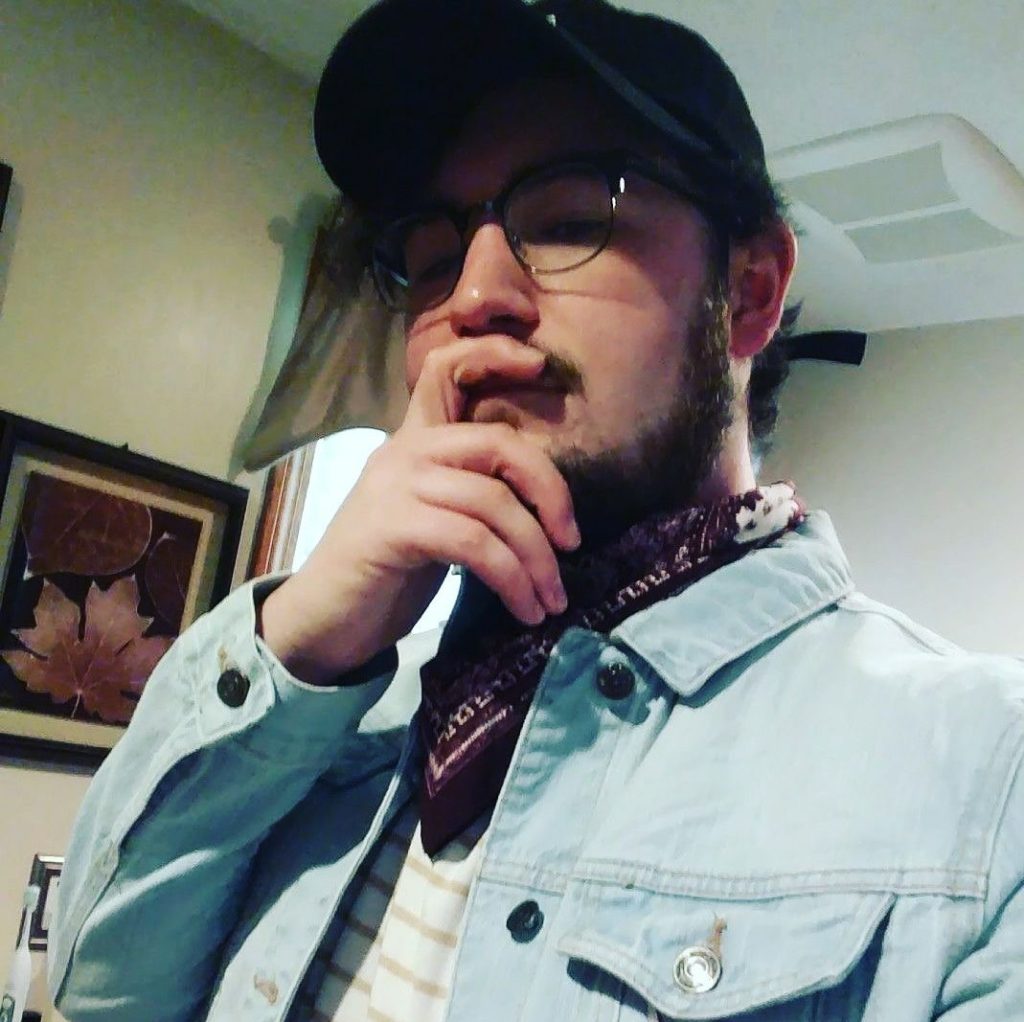 Cambria: Tyler has become one of my really good friends. When I started working in the shop and I needed to ask Tyler a question, I was like … "Oh, that's the guy that's like really intimidating! I don't know if I really want to ask him questions." Then I went up and he was just like, "Yes, sure! Let me come help you! Then he came and he helped me on the lightboard and on the soundboard. During my exit interview process and during my interview process in my current job he was so insightful. "I want the best for you students. I want to see you succeed. I want to help you out."
Grace: I have immense respect for him and his talent, his knowledge; because it's very evident that he is quite good at what he does, and he's very quiet about it. And I have a lot of respect for people like that. Definitely an asset to Silver.
22:03 Bob Bruemmer Stagecraft Fundamentals
Bob Bruemmer, Stagecraft Fundamentals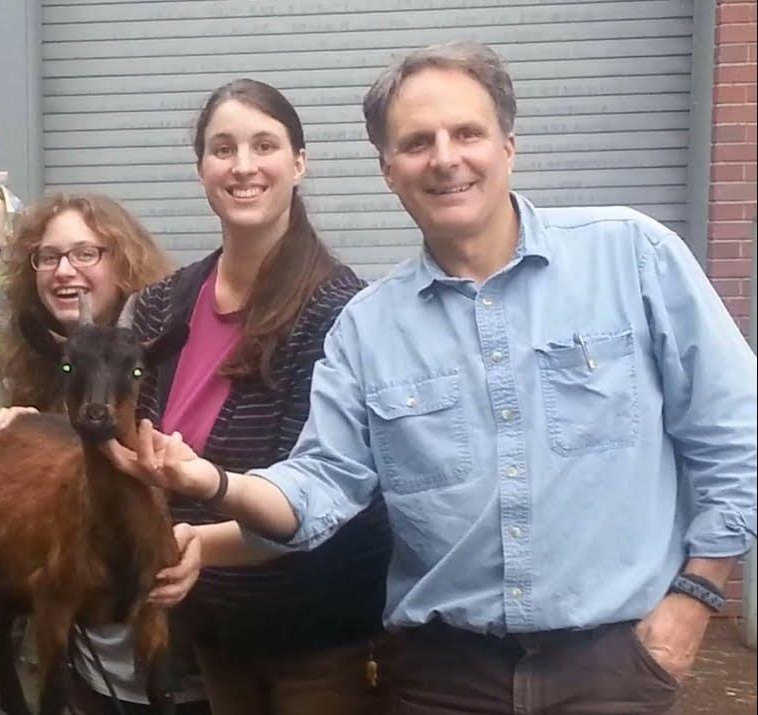 Lindsey: Bob is a kid in a candy store. You cannot change my mind about that because I have seen him in a candy store. He's super fun to be around, but you also get a lot of work done. I came in freshman year taking stagecraft knowing a little bit about shop stuff, power tools, maybe a little bit here and there, but not really knowing anything, to last year being able to go out and work construction on an actual house. I learned and grew so much, and we had a lot of fun doing it.
Cambria: He was so warm, happy, bubbly all the time. And you got serious work done around him. You know he would help you, and he' always keep you safe. Welcoming and fun and real. If you had something you needed to talk about he would give it to you like it was, but in the most warm and kind way possible.
Grace: So friendly and loud about it. I get excited with power tools, [but] I am stupid with numbers. So encouraging to every single person in that class, and establishes relationships. He makes himself a familiar and friendly face for everybody. When I walk into Silver, he is a huge reason that Silver feels like a home.
23:14 Matt Kizer – Theatre Design & Technology + Director of Theatre
Matt Kizer, Theatre Design & Technology + Director of Theatre
Set Design, Lighting Design, Projections, & More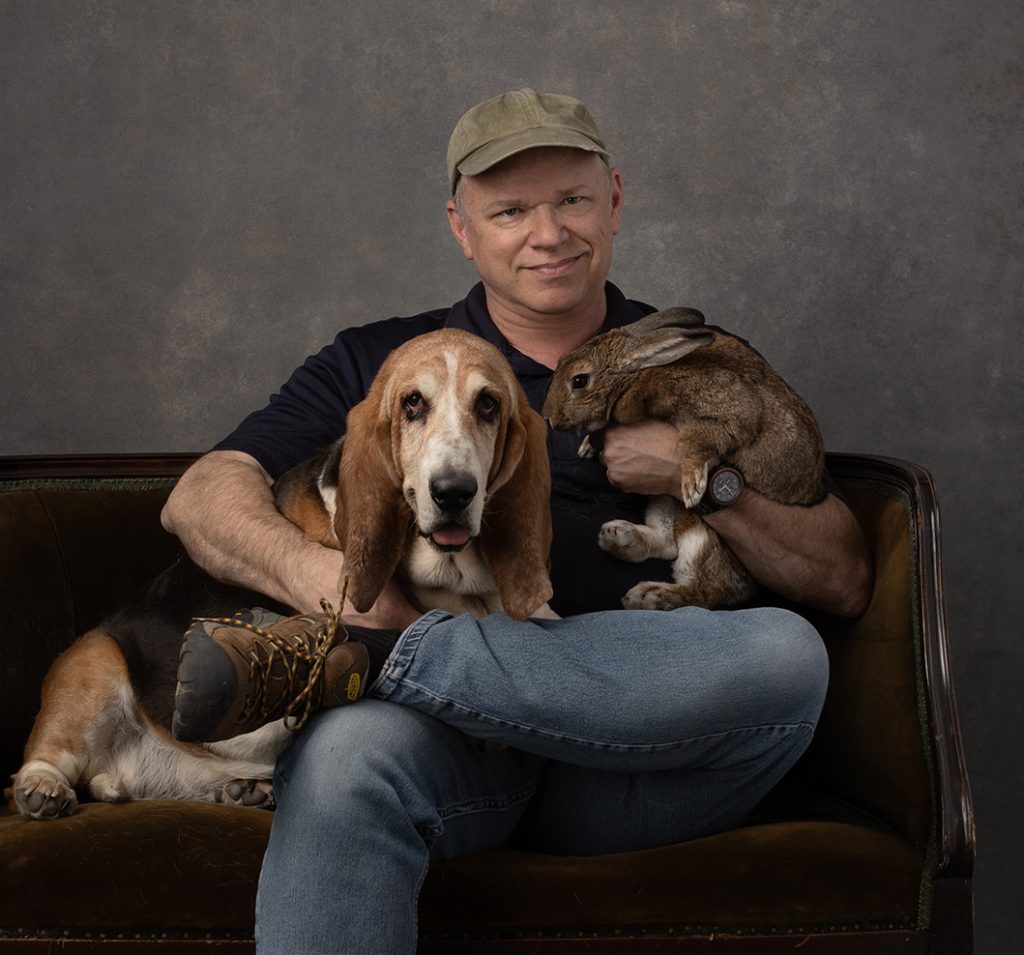 Grace: D. Matthew Kizer is the Dad. He is probably the most caring and empathetic person in that building. Not to mention his hugely successful career. So many friends that have performed at so many professional theaters that have used his projections and designs. He just … he cares so much. He is so invested in making each student's experience memorable and positive. He just finds a way to bond with you.
Cambria: People at Plymouth State really don't realize how lucky we are to have Matt. There will be so many instances where, me now, as a theater teacher … I will go to look something up, and nine times out of 10 his designs, his programs, his work will come up in my search engine. I got to go to the USITT Convention in St Louis; the amount of people that came up to his booth and were like, "Oh my gosh, Matt Kizer's here?" There were so many people that were just gushing over him and I was like, "Yes, he's my mentor!" There are days where you look at him you're like, "Wow . This man pioneered [aspects of] projections in theatre," and then there are other days you see him walk out of his office and you're like, "Wow, this man is a muppet." He will never let you know how many tricks he has up his sleeve. He has this little side-smirk that he does when you have any question for him, and he will probably have five solutions. Having someone like him, and having a support system like him meant the world to me, and it still means the world to me. I still speak with him on a regular basis. I message him about my life like I would a parent.
Grace: Same. he's the first person I told about my contract.
Cambria: When I got my my teaching job here … he's up on stage, and we have people around him working, and I walk up. "Kizer, I got the job." The amount of excitement … he jumped up and down and was like, "I'm so proud of you," and there's nothing there's nothing – there's nothing that can beat it.
Lindsey:  I did not expect to have such a bond and the bond that I have to Kizer.  Freshman year I [would have been] like, "I don't know about that …  I'm music-theatre.  I'm not really going to work with him all that much.  I worked as a technician but I was never really into design or anything like that.  Now Kizer is one of my go-to people.  There have been multiple times where we've emailed him and been like hey we have a question, and he's like, "All right.  Here's a zoom-link.  Hop on!" … and we're like …  "Oh!"  He's the go-to person to pick your brain.  Just always there to help.  Sometimes he'll just come and sit in the student lounge, and just hang out with us.  There was one day where I was just ranting – I was like, "I have all these things I need to do.  I don't know how to make a teaching resume! And he's like,  "Okay so when do you want to come to my office? We'll sit down and do it together."  I was like "What?!"  And he was like, "How does this day at this time sound?" "That would be great! Thank you so much!!"  … as I was at my height of stress.   He's also … never going to let you down on yourself.  There were many times where I was like … "Kizer, I can't do this!  "Um…  yes you can.  You just did all these things.  Okay, what can you do about this?  Well, what about this?" [and I would respond:]  "Well, I guess this."   [And he would say] "Oh okay … so you just said it.  You just did it.  You already did the thing."   I'm pretty sure he told me in my senior year  "… anyone would be lucky to work with you, and don't you forget it!"  and I [responded emotionally] "Okay,  thank you Kizer!!"  He's someone that'll surprise you, and might be intimidating at first, but he is truly a muppet of many talents.

Grace: We love you Kizer!
The Silver Center for the Arts and Its Performance venues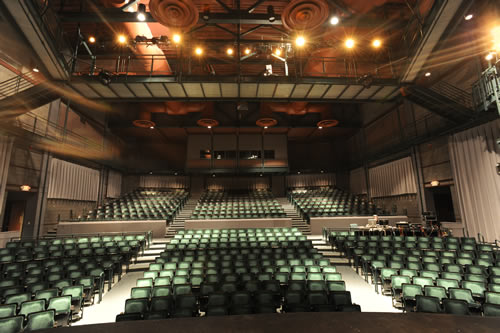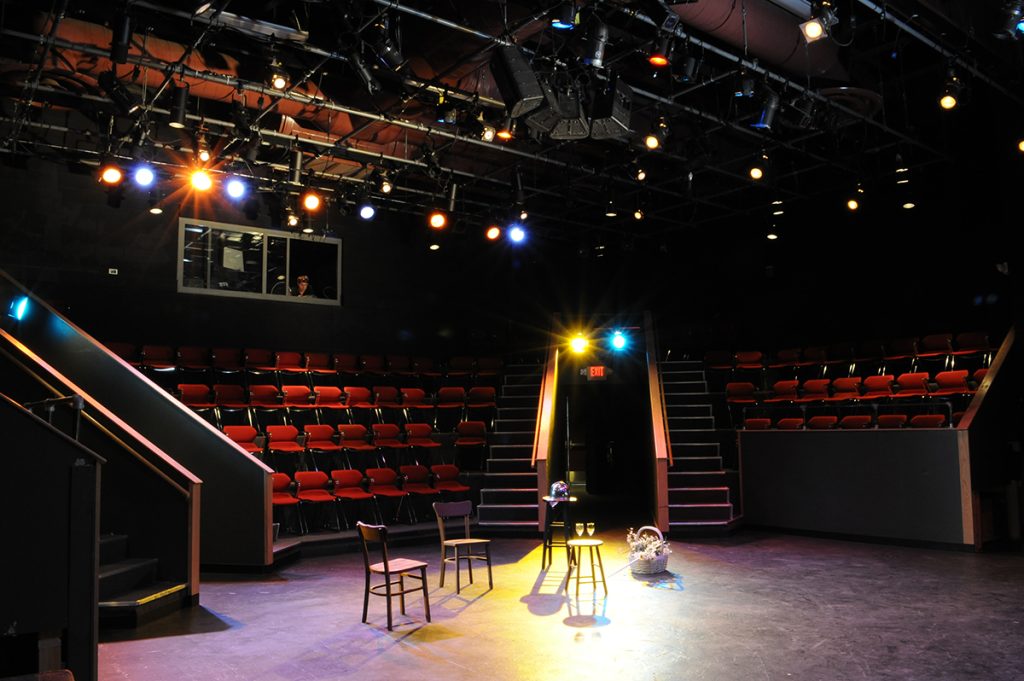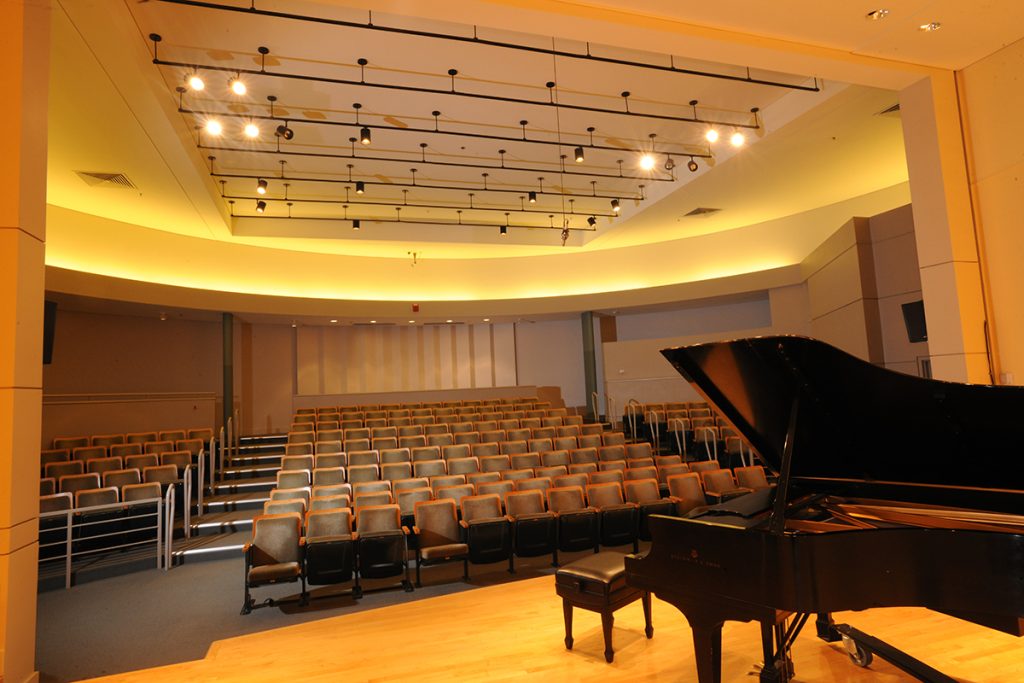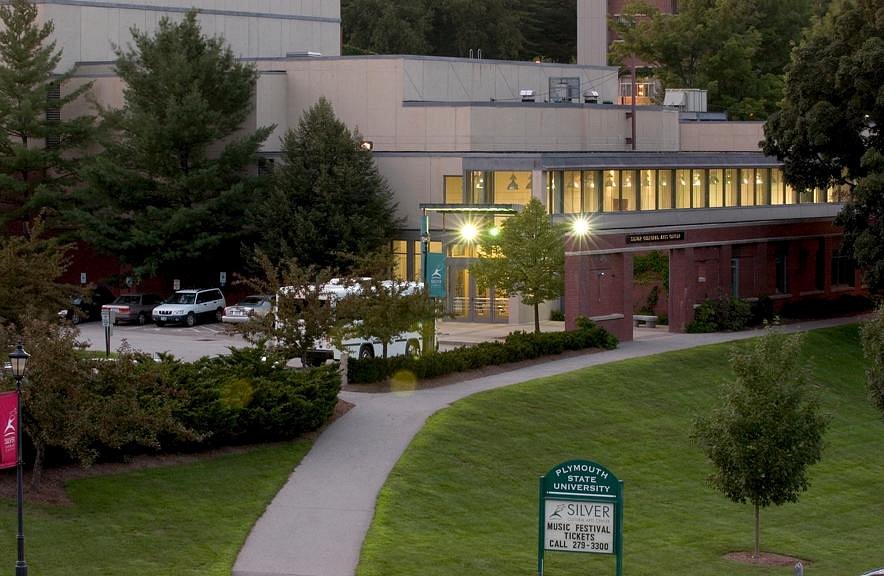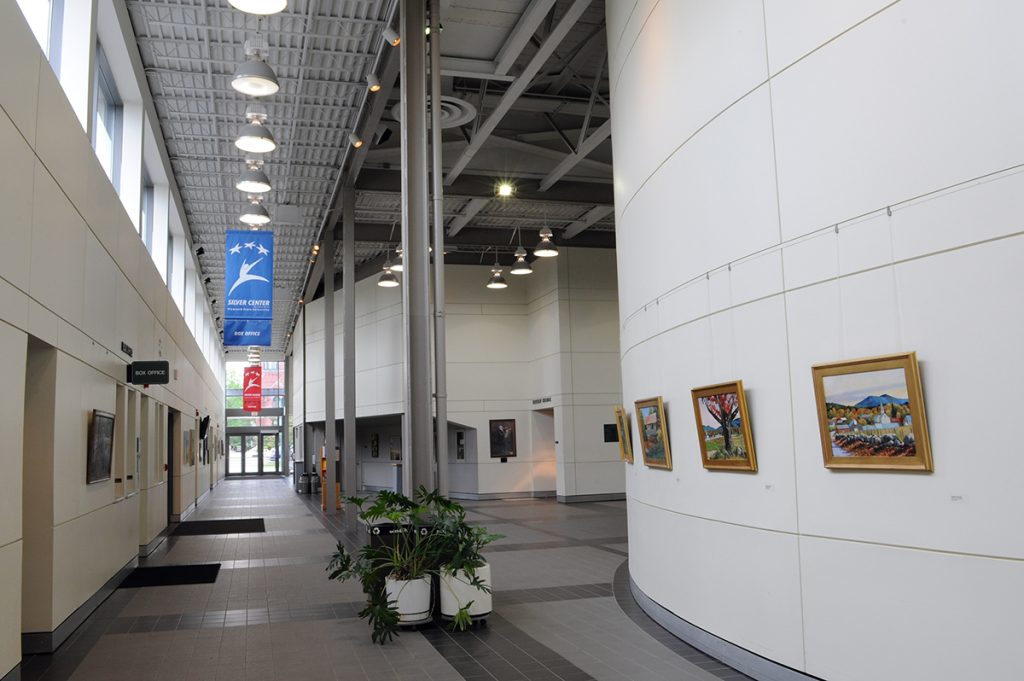 In addition to the performance venues listed above, the Silver Center also contains studios for acting, dance, music technology, and recording, plus rehearsal modules for students, a choral room, a symphonic band room, an art gallery for the Museum of the White Mountains, a fully equipped scene shop, classrooms, offices, and more.